WELCOME TO
TWELFTH BAPTIST CHURCH
CELEBRATING HERITAGE MONTH
August, 1805 – Present
SHEPHERDING MINISTRY SUNDAY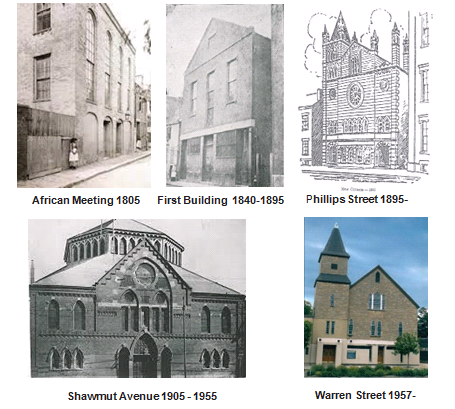 "A LIGHT IN THE COMMUNITY"
A PEOPLE OF PURPOSE – POWER – PRAISE and PRAYER
SHEPHERDING MINISTRY SUNDAY
SUNDAY, AUGUST 18, 2019
10:45 A.M
PRAISE
Praise & Worship – Praise Ensemble
Prelude – Musician
Call to Worship – Minister Elizabeth Crockton
Opening Congregational – Hymn 288 
"Crown Him With Many Crowns"
PRAYER – Rev. Jeffrey L. Brown
Prayer Response – Praise Ensemble
"A Praying Spirit"
B A P T I S M
PRESENTATIONS
Our Visitors – Minister Rachel Idowu
Our Thanks to God – Minister Shirley Adams
Pledges, Tithes and Offerings – Hymn 505 
"Somebody Prayed For Me"
PROCLAMATION
The Divine Word – Minister Joshua Bartholomew
Choral Selection – The Choir
"You Deserve It"
PREACHING
Invitation – Hymn 245
"There's Room At The Cross For You"
PARTING
The Benediction – Rev. Bernard Spencer
Postlude
Rev. Arthur T. Gerald, Jr. – Senior Pastor
Rev. Michael E. Haynes – Pastor Emeritus
Rev. Willie Bodrick II and Rev. Jeffrey Brown Associate Pastors
Bro. Darryl "Coach" Simpson Coordinator of Youth Ministries
Bro. Jonathan W. Singleton Minister of Music
Ministers in Residence:
Rev. Phillip Ross – Rev. Bernard Spencer – Minister Shirley Adams –
Minister Elizabeth Crockton – Minister Naomi Crumb – Minister Rachel Idowu
updated 8/15/2019
…TBC NOTICES…
NO INTERPRETED SERVICES: Our Sign Ministry services will resume on September 1st.
BEREAVED FAMILIES: Sis. Mamie Ruth Wallace & family on the death of her sister in Florida. Condolences The Wallace Family … Sis. Sharon Keyes & family on the death a cousin in England. Condolences The Keyes Family.
YOUTH MINISTRY NEWS:
SAVE THE DATE! Youth between 12-19 are invited to Apex Entertainment Center, Marlborough, MA on Saturday, August 24th. Mark your calendars and join TBC's Youth Group for a fun trip filled with games and activities before the start of the school year. We will be leaving TBC at 11:00 A.M. and returning by 5:00 P.M. For more information and to sign up contact Dr. Joshua Bartholomew or our Central Office.
CALLING THE SHOTS:
Check out our bulletin board for an interesting article regarding Bro. Donalexander Goss, a member of our Trustee Ministry.
CONTINUED PRAYERS REQUESTED: (Updated  8/15/2019)
Please continue to pray for:
Pastor Emeritus Michael E. Haynes,
Rev. Phillip Ross,
Deacons Emerson Brathwaite and Hozel Murray,
Deaconesses Hazel Stevens, Leoner Woodson and Myrtle Creary,
Bro. Clarence & Sis. Wanda Jones,
Sis. Delsie Hodgson,
Sis. Frances Glenn-Chalmers,
Sis. Elaine Morrison,
Sis. Anna Ekpenyong,
Sis Diane Dujon,
Sis. Margaret Hill,
Sis. Mary Lue Moore,
Mrs. Geraldine Brown,
Ms. Helen Miller,
Mr. Roscoe Baker,
Mr. Joseph Stephens,
and former members:
Audrey Anderson,
Charlotte (Paris) Dixon
and Windol (Sonny) Lomax.
SUMMER ENRICHMENT NIGHT: Our Summer Enrichment Program invites you to attend its year end celebration on Thursday, August 22nd 5:00 P.M.
DISTINGUISHED BROTHERHOOD: The Ministry will resume on Monday, September 9th 10:30 A.M.
TRUSTEE ANNUAL DAY: St. John Missionary Baptist Church's Trustee Ministry invites you to attend its Annual Day Celebration today 3:00 P.M. Guest Preacher will be Rev. Jaron Green, Interim Pastor of Union Baptist Church Cambridge.
COLLEGE SCHOLARSHIP PAGEANT: MUSIC Dance.edu presents a College Scholarship Pageant, Saturday, October 26, 2019 7:00 P.m. at Lombardo's Function Hall, Randolph, MA. Prizes include- Cash scholarship, a crown, flowers, and prizes. Awardees churches will receive cash love gifts. College-bound spiritual, girls ages 14-19 years are invited to participate in the College Scholarship Pageant. Applications available in Central Office.
MEN'S FELLOWSHIP NEWS: Tickets for the Men's Workshop and Luncheon scheduled for Saturday, September 21st are now available. Donation $20.00. Workshops and Luncheon open to all. See any Men's Fellowship Officer.
HERITAGE MONTH CELEBRATION:
There are still a few seats left on the chartered buses and a few hotel rooms available for our trip to the National Museum of African American History and Culture in Washington, DC. Buses will leave TBC on Monday, August 26th 6:00 A.M. and will return on Wednesday, August 28th at approximately 10:00 P.M. See Sisters Lisa Dix, Marcella Dix Brown, Florence Sealy or Anna Ekpenyong for details.
CHURCHWOMEN'S NEWS: Our Churchwomen's Fellowship will not meet in July or August. See you on September 28th 10:00 A.M.
JUST A REMINDER:  
Our Sunday Morning Breakfast Ministry is on vacation until September 15th …
The TBC Swingers are on vacation until September 3rd …
Our Missions Ministry will not meet in July or August …
The Moreland Street Parking Lot is closed to vehicles Monday-Friday 7:00 A.M. until 6:00 P.M….
Sunday meals through September 8th will be take out ONLY …
Our Kitchen Ministry is still in need of cooks see Sis. Sonia Lawrence …  
Our Thrift Shop is in need of spring and summer clothing for the Clothing Drive …
Cell Phones and Pagers should be in the off or mute position when entering the Sanctuary.
Food and beverages should be consumed in Shaw and or Hester Halls. You are asked not to eat in the Sanctuary or Choir Room. thank you – The Trustee Ministry.
… OTHER NOTICES …
SAVE THE DATES:
MONTH OF AUGUST TBC Heritage Month Celebration –
Back-to-college Celebration August 10th …
Sunday, August 18th Shepherding Ministry Sunday …
Sunday, August 25th Senior Citizens' Sunday …
Monday-Wednesday, August 26-28 Trip to Museum of African American History and Culture …
Friday-Sunday, September 20-22 Men's Weekend.
JUST A FEW SEATS LEFT! See Sis. Lisa Dix, Sis. Marcella Dix Brown, Sis. Florence Sealy or Sis. Anna Ekpenyong if you are interested in going to the National Museum of African American History, Washington, DC Monday-Wednesday, August 26-28. Come see and celebrate TBC's history. Th ere are a few spaces still available. Cost $290.00 per person, which includes transportation, hotel (double occupancy), Continental Breakfast and entrance to the museum
TRIP TO WASHINGTON DC – Join the TBC African American History Committee on a trip to Washington, DC Chartered buses will leave TBC on Monday, August 26th 7:00 A.M. and will return on Wednesday, August 28th at approximately 10:00 P.M. You will spend Tuesday , August 27th at the Museum. Cost per person is $300.00, which includes transportation to and from Washington, DC, hotel accommodations (double occupancy) and continental breakfast. Lunch and Dinner are on your own. See Sis. Marcella Brown or Sis. Anna Ekpenyong for details.
KITCHEN MINISTRY NEWS: Do you like to cook? Do you and your family or friends like getting together in the kitchen? Then … we need you. Meal preparers are needed for Sundays and an occasional repast. If interested speak to Sis. Sonia Lawrence or Sis. Barbara Gibbs… Beginning next Sunday (July 7th) through the second Sunday in September (9/8/2019), Take out meals only!
HAPPY BIRTHDAY AUGUST SENIORS: Dorothy Leak-Neblett 8/5 – Frances Lawson – 8/6 Tommie Campbell, Sr. – 8/7 Mary F. Lawrence 8/8 – Mary L. Hamilton 8/10 – Bertha Franklin 8/14 – Violet Williams 8/18 – Georgia M. Coleman 8/23
WATCH TBC SERVICES ON BOSTON CABLE, OR INTERNET | YouTube (On demand, Over 250 to choose from)
TBC ON CABLE: SUNDAY EVENINGS ON BOSTON CABLE – Cable Channel A-23 – or INTERNET – BNNTV.org
TBC ON DEMAND – YOUTUBE (1 week behind) – "Any Time 24 hours a day.

TBC Service Video DVDs: – Please leave your A-V requests in Bookshelf. We are here to respond to your requests Sis. Stephanie Janey, Coordinator Bookshelf, Bro. Sidney H. Burton, Jr., Coordinator A-V Ministry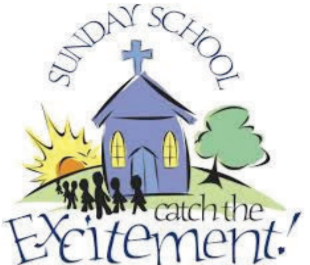 SUNDAY SCHOOL CLASSES BEGIN at 9:30AM.
We are looking forward to seeing you and your family.
Please join your age group and Sunday School Teachers in one of the following locations:
Infants & Toddlers: Paula Price – Ewing Hall (lower level Main Building)
Elementary School: Grades 1-5 Brianna Forde & Alma Wright (Shaw Hall)
Middle School: Grades 6-8 Deacon Andrew Henry & Winston Bodrick (Deaconess Room)
High School: Grades 9-12 Darryl Simpson & Brenda Richardson(142 Warren St.)
Adult: Co-ed Minister Rachel Idowu – (Hester Hall)
Adult: Women Minister Liz Crockton – (Haynes Room)
SECOND QUARTER FINANCIAL STATEMENTS: Your financial statements are available through e-mail or a hard copy. Please request your statement through our Finance Office
FRIDAY NIGHT PRAYER SERVICE:
DID YOU KNOW? There are TBC members who would LOVE to come to Friday Night Prayer Service, but need a ride to and from their home. If you are willing and able to provide this`service, please leave your name in our Central Office.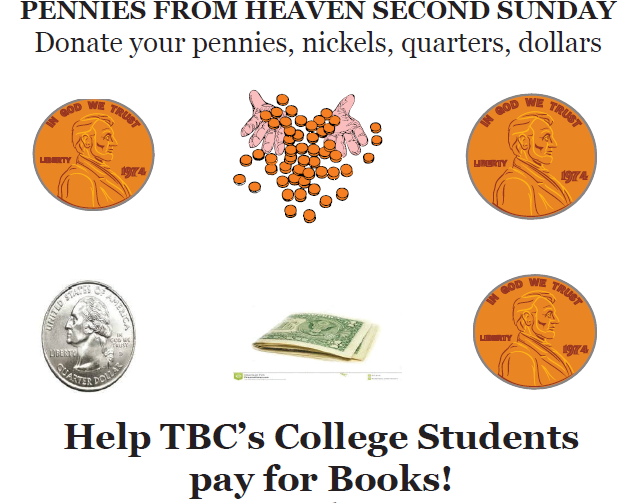 THRIFT SHOP MINISTRY NEWS:
Please support the TBC Thrift Shop by participating in their "Clothing Drive" . They are in desperate need of slightly worn spring and summer clothing – all sizes children, women, and men. the donations can be left in the Central Office during the Thrift Shop's off hours. Please mark bags CLOTHING DRIVE. After the Thrift Shop is replenished a yard sale will be held to give back to the community and our Church family.
VOLUNTEERS NEEDED:
Our Thrift Shop Ministry is in need of volunteers (male or female) for Thursdays from 10:00 A.M. until 2:00 P.M. If interested please contact Sis. Florence Sealy..
Transportation Ministry is in need of van drivers Sundays, and an occasional Tuesday. If interested and have a good driving record, please speak to Bro. Jay O'Neal.
VETERANS:
BELL, Jr., Clarence W. – BYRON, Oliver L. – CRADDOCK, Allen G.
DAWSON, Charles E. – DAWSON, Mollie – FISHER, Raymond T.
FLOYD, Isiah – GOSS, Donalexander – GREEN, Curley
HUMPHREY, Jimmy – JAMES, Arthur T. – JANEY, II, William H.
JOHNSON, Dorothy – JONES, Clarence J. – LOPEZ, III, Anthony – MURRAY, Hozel E.
NOBLES, Jr., Maurice – NOBLES, Raymond – SPENCER, Rev. Bernard
CHURCH FELLOWSHIPS
Churchwomen's Fellowship – Distinguished Brotherhood of Senior Men –
Liberian Fellowship – Men's Fellowship
Senior Citizen's "Swingers" Fellowship – Youth Fellowship
MINISTRIES:
After School Program – American Sign Language – Audio-Visual -Baby Dedication – Black History Committee – Bookshelf – Chancel Chorale – Chapel Choir – Children's Choir – Children's Nursery – Choral Ensemble – Christian Preschool – Clothes Rack/Thrift Store – Computer Center- Dorcas Ministry – – Exercise Ministry – Flower Ministry – Food Pantry Ministry – Girl Scouts Ministry -Grant Writing – Handbell Choir – Junior Church Ministry – King Solomon Ministry – Kitchen Ministry – Liturgical Dance Ministry – Nurses' Ministry -Prison Ministry – S.A.M.H. Housing – Security Team – Shepherding Ministry – Summer Enrichment Program – Sunday Bible School – Team 13 – P.A.M. – Telephone Ministry – Transportation Ministry – Ushers' Ministry – Visitors' Welcome – Youth Choir
DAY OF PRAYER AND FASTING
Pray Until Something Happens
TBC SHEPHERDING MINISTRY
AFTER SCHOOL PROGRAM
SecondAfricanMeetingHouse / Twelfth Baptist Church
A Black Ministerial Alliance of Greater Boston Inc.
Victory generation After School Program
Monday – Friday 2 P.M. until 6:00 P.M.
September 6th through June 17th
Children ages 5 – 13 year of age
Contact us @ 617 427 5158

LOOKING FOR A MINISTRY
ON WHICH TO SERVE?

OUR MISSION STATEMENT
In view of the Great commission of our Lord Jesus Christ
(Matthew 28:18-20),
in thanksgiving for His great love for us,
and in obedience to the Word of God,
the mission of Twelfth Baptist Church is:
To extend the love of God to others
through proclaiming the Good News
and providing Christ-centered ministries
to meet the temporal needs of the people whom God loves;
To build up the body of Christ
through prayer, fellowship, teaching
and exercising our faith; and
To worship God in our corporate and individual lives.
Call into our PRAYER line
515-604-9094 | 12:15pm – 12:45pm
Meeting ID Number: 470-706-869
Please Note: Some meetings and activities are specific to TBC members and are subject to change.
Any questions can be addressed to our Central Office
@ 617 442 7855 | Fax: 617.442.8784
Other Contacts
Rev. Gerald 617.442.7854 – PreSchool 617.427.0273
After School Program: 617.427.5158