WELCOME TO
TWELFTH BAPTIST CHURCH
"A LIGHT IN THE COMMUNITY"
A PEOPLE OF PURPOSE – POWER – PRAISE and PRAYER
Celebration and Worship on "FATHERS DAY"
10:45 A.M. – June 16, 2019
PRAISE
Praise & Worship Praise Ensemble
Prelude Musicians
Call to Worship Minister Ronald Jones
Opening Congregational – Hymn 409
"Faith of Our Fathers"
PRAYER, Rev. Bernard Spencer
Choral Selection, The Ensemble
"Great Things"
PRESENTATIONS
Our Visitors – Bro. Sidney & Sis. Michelle Burton
Our Thanks to God – Bro. Clarence W. Bell, Jr.
Pledges, Tithes and Offerings Traditional
"C'mon and Bless the Lord with Me"
PROCLAMATION
The Divine Word – Bro. Markel Crockton
Choral Selection – The Ensemble
"Let it Rise"
PREACHING – Rev. Jefferey L. Brown
Invitation Hymn 550
"Where He Leads Me"
PARTING
The Benediction Rev. Willie Bodrick, II
Postlude
Rev. Arthur T. Gerald, Jr. – Senior Pastor
Rev. Michael E. Haynes – Pastor Emeritus
Rev. Willie Bodrick II and Rev. Jeffrey Brown Associate Pastors
Bro. Darryl "Coach" Simpson Coordinator of Youth Ministries
Bro. Jonathan W. Singleton Minister of Music
Ministers in Residence:
Rev. Phillip Ross – Rev. Bernard Spencer – Minister Shirley Adams –
Minister Elizabeth Crockton – Minister Naomi Crumb – Minister Rachel Idowu
updated 6/16/2019
FATHERS OF OUR HERITAGE: Today, we honor those fathers of TBC who prayed, worked and stayed during the transition from Shawmut Avenue to our present facilities on Warren and Moreland Streets. Some were fathers then and others are fathers now. Charles Dawson, Michael E. Haynes, Clarence Hogan, Edward L. Woodson – We also remember those who are no longer physically
with us.

BEREAVED FAMILIES:
Mr. Robert Thompson, Jr. & family on the death of his mother, Sis. Emma Thompson. Condolences the Thompson Family, … Rev. Bernard Spencer & family on the death of his great aunt, Mrs. Mahalia Smith Henderson of Virginia. Condolences the Spencer Family

PRAYERS REQUESTED: You are encouraged to keep our brothers and sisters in prayer –
Rev. Michael E. Haynes,
Rev. Phillip Ross
Deacon Emerson Brathwaite,
Deacon Hozel Murray,
Deaconess Leoner Woodson,
Bro. Clarence & Sis. Wanda Jones,
Sis. Delsie Hodgson,
Sis. Ruby Smith,
Sis. Frances Chalmers,
Sis. Harriet Robinson,
Sis. Diane Dujon,
Sis. Mary Brooks,
Sis. Dorothy Leak Neblett,
Sis. Elaine Morrison,
Sis. Lisa Burton,
Sis. Juanita Hope as she ministers to her sister,
Mr. Maurice Turner,
Mr. Joseph Stephens
Charlotte (Paris) Dixon and
Windol (Sonny) Lomax. Former members

THANK YOU, TBC MEMBERS: Thank you to all who supported my Walk for Hunger. Although I did not raise as such as in past years, I still praise God for what I was able to do through your generosity. Sis. Juanita Hope.
One kind act can turn a gray day into a yeah day. I want to thank my TBC family for the prayers and calls I received during my illness. Sis. Renae Lawrence.
MUSEUM OF AFRICAN AMERICAN HISTORY AND CULTURE: Plan to join the African American History Committee on a trip to Washington, DC Augusts 26-August 28. Spend a full day on Tuesday, August 27th visiting the museum. Cost per person $290.00 which includes transportation to and from Washington, DC, hotel
accommodations (double occupancy) and continental breakfast. Lunches and Dinners are on your own. See Sis. Marcella Brown or Sis. Anna Ekpenyong for details.
YOU ARE INVITED: The Men's Choir and Laymen's Ministry of Ebenezer Baptist Church invites you to join them at the 6th Annual Men's Choir Extravaganza, Saturday, June 22, 2019 6:00 P.M. at Ebenezer Baptist Church, West Springfield Street, Boston – featured artists will include Rev. Willie Bodrick, II, Rev. Kevin D. Coakley, Minister Melvin Murphy, Rev. James Ru# n, Sr., and Min. Sam Campbell Donation $20.00. See our bulletin board for details …
Whittier Street Health Center invites you to the 19th Annual Health Summit, Saturday, June 29th 11:00 A.M. – 1:00 P.M. At Whittier Street Health Center, Tremont Street, Roxbury. Keynote Speaker, Brandon Bolder, member of the New England Patriots.
ALL ABOUT OPERATOR HIRING: On Wednesday, June 26th 10:00 A.M. – 2:00 P.M. The MBTA invites you to an Open House that is all about operator hiring at the Transportation Building, 10 Park Plaza, 2nd Floor Boardroom. See our bulletin board for details.
CHURCHWOMEN'S NEWS: The Churchwomen will meet on Saturday, June 22nd 10:00 A.M. All TBC women are invited to attend.
YOUNG ADULT & YOUTH CHOIR NEWS: Former Youth Choir members are asked to meet with Sis. Carrie Woodson by the Organ after service today. The Youth Choir will rehearse on Friday, June 21st 6:00 P.M. All choir members are asked to be present as the Choir will minister in music on Sunday, June 23rd.
TRIP TO WASHINGTON DC – Join the TBC African American History Committee on a trip to Washington, DC Chartered buses will leave TBC on Monday, August 26th 7:00 A.M. and will return on Wednesday, August 28th at approximately 10:00 P.M. You will spend Tuesday , August 27th at the Museum. Cost per person is $300.00, which includes transportation to and from Washington, DC, hotel accommodations (double occupancy) and continental breakfast. Lunch and Dinner are on your own. See Sis. Marcella Brown or Sis. Anna Ekpenyong for details.

HAPPY BIRTHDAY, JUNE SENIORS Gwendolyn Stewart 6/2 – Mary Pack 6/7 – Catherine Moon 6/9 – Charles Dawson 6/12 – Clarence Hogan 6/12 – Ruth McCollum 6/12 – Allen Craddock 6/15 – Estella Jones 6/16 – Flora Trotman 6/16 – Gloria Savory 6/16 – Hazel Tyler 6/16 – Bernard Spencer 6/17 – Walter Mitchell 6/17 – Ruby Smith 6/20 – Stephanie Janey 6/22 – Betty Burch 6/22 – Linda Cabral 6/27 – Carolyn Humphrey 6/28 – Polina Blackwell 6/29
JUST A REMINDER: Food and beverages should be consumed in Shaw and or Hester Halls. You are asked not to eat in the Sanctuary or Choir Room. thank you – The Trustee Ministry.
TBC Service Videos: – Please leave your A-V requests in Bookshelf. We are here to respond to your requests Sis. Stephanie Janey, Coordinator Bookshelf, Bro. Sidney H. Burton, Jr., Coordinator A-V Ministry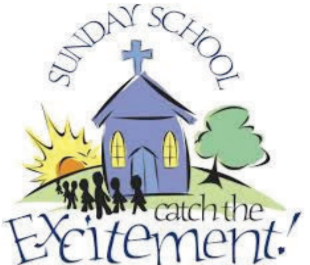 SUNDAY SCHOOL CLASSES BEGIN at 9:30AM.
We are looking forward to seeing you and your family.
Please join your age group and Sunday School Teachers in one of the following locations:
Infants & Toddlers: Paula Price – Ewing Hall (lower level Main Building)
Elementary School: Grades 1-5 Brianna Forde & Alma Wright (Shaw Hall)
Middle School: Grades 6-8 Deacon Andrew Henry & Winston Bodrick (Deaconess Room)
High School: Grades 9-12 Darryl Simpson & Brenda Richardson(142 Warren St.)
Adult: Co-ed Minister Rachel Idowu – (Hester Hall)
Adult: Women Minister Liz Crockton – (Haynes Room)
NOTICE FROM OUR FINANCE OFFICE:
The First Quarter Financial Statements are now available. Please make sure Sis. Vera Franklin has your email address. Help us save on postage.
JUST A REMINDER:
Please watch your personal items at all times in all places.
FRIDAY NIGHT PRAYER SERVICE:
DID YOU KNOW? There are TBC members who would LOVE to come to Friday Night Prayer Service, but need a ride to and from their home. If you are willing and able to provide this`service, please leave your name in our Central Office.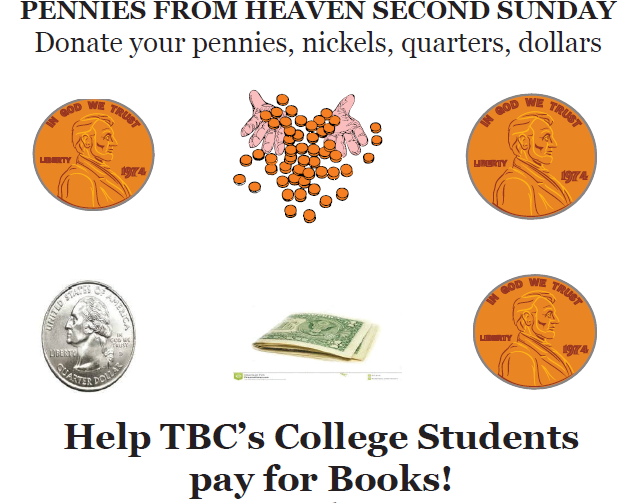 v
THRIFT SHOP MINISTRY NEWS:
Please support the TBC Thrift Shop by participating in their "Clothing Drive" . They are in desperate need of slightly worn spring and summer clothing – all sizes children, women, and men. the donations can be left in the Central Office during the Thrift Shop's off hours. Please mark bags CLOTH-
ING DRIVE. After the Thrift Shop is replenished a yard sale will be held to give back to the community and our Church family.
VOLUNTEERS NEEDED:
Our Thrift Shop Ministry is in need of volunteers (male or female) for Thursdays from 10:00 A.M. until 2:00 P.M. If interested please contact Sis. Florence Sealy..
Transportation Ministry is in need of van drivers Sundays, and an occasional Tuesday. If interested and have a good driving record, please speak to Bro. Jay O'Neal.
VETERANS:
BELL, Jr., Clarence W. – BYRON, Oliver L. – CRADDOCK, Allen G.
DAWSON, Charles E. – DAWSON, Mollie – FISHER, Raymond T.
FLOYD, Isiah – GOSS, Donalexander – GREEN, Curley
HUMPHREY, Jimmy – JAMES, Arthur T. – JANEY, II, William H.
JOHNSON, Dorothy – JONES, Clarence J. – LOPEZ, III, Anthony – MURRAY, Hozel E.
NOBLES, Jr., Maurice – NOBLES, Raymond – SPENCER, Rev. Bernard
CHURCH FELLOWSHIPS
Churchwomen's Fellowship – Distinguished Brotherhood of Senior Men –
Liberian Fellowship – Men's Fellowship
Senior Citizen's "Swingers" Fellowship – Youth Fellowship
MINISTRIES:
After School Program – American Sign Language – Audio-Visual -Baby Dedication – Black History Committee – Bookshelf – Chancel Chorale – Chapel Choir – Children's Choir – Children's Nursery – Choral Ensemble – Christian Preschool – Clothes Rack/Thrift Store – Computer Center- Dorcas Ministry – – Exercise Ministry – Flower Ministry – Food Pantry Ministry – Girl Scouts Ministry -Grant Writing – Handbell Choir – Junior Church Ministry – King Solomon Ministry – Kitchen Ministry – Liturgical Dance Ministry – Nurses' Ministry -Prison Ministry – S.A.M.H. Housing – Security Team – Shepherding Ministry – Summer Enrichment Program – Sunday Bible School – Team 13 – P.A.M. – Telephone Ministry – Transportation Ministry – Ushers' Ministry – Visitors' Welcome – Youth Choir
DAY OF PRAYER AND FASTING
Pray Until Something Happens
TBC SHEPHERDING MINISTRY
AFTER SCHOOL PROGRAM
SecondAfricanMeetingHouse / Twelfth Baptist Church
A Black Ministerial Alliance of Greater Boston Inc.
Victory generation After School Program
Monday – Friday 2 P.M. until 6:00 P.M.
September 6th through June 17th
Children ages 5 – 13 year of age
Contact us @ 617 427 5158

LOOKING FOR A MINISTRY
ON WHICH TO SERVE?

OUR MISSION STATEMENT
In view of the Great commission of our Lord Jesus Christ
(Matthew 28:18-20),
in thanksgiving for His great love for us,
and in obedience to the Word of God,
the mission of Twelfth Baptist Church is:
To extend the love of God to others
through proclaiming the Good News
and providing Christ-centered ministries
to meet the temporal needs of the people whom God loves;
To build up the body of Christ
through prayer, fellowship, teaching
and exercising our faith; and
To worship God in our corporate and individual lives.
Call into our PRAYER line
515-604-9094 | 12:15pm – 12:45pm
Meeting ID Number: 470-706-869
Please Note: Some meetings and activities are specific to TBC members and are subject to change.
Any questions can be addressed to our Central Office
@ 617 442 7855 | Fax: 617.442.8784
Other Contacts
Rev. Gerald 617.442.7854 – PreSchool 617.427.0273
After School Program: 617.427.5158